GIFT CARDS - BUY NOW, PLAY LATER
Our doors are shut for now but the game will go on. As a small, independent business, we would love it if you are able to support us while we're closed by buying a gift card now so you can play later.
As a special thank you to our supporters, we are offering 15% off all gift card purchases with discount code PLAYLATER15.
Give the gift of Sherlock with any of our experience vouchers including The Official Sherlock Live Game, The Case of the Poisoned Chalice or our Afternoon Tea and mystery experiences and get ready for your very own adventure.
The Game Awaits. In the meantime, follow us on Twitter and Instagram @221B and Facebook @SherlockTheGameIsNow for the latest puzzles and games while we are all in #SherLOCKDOWN.
SHERLOCK: THE OFFICIAL LIVE GAME
Give the gift of Sherlock with an online voucher for The Game Is Now - a 100 minute immersive escape game from the creators of the hit TV series.
Vouchers are on sale for a minimum of two people and can be purchased for the game or for the game plus afternoon tea or VIP experience. They are valid for 12 months from the date of purchase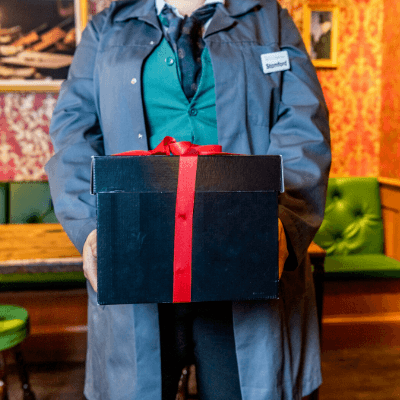 THE CASE OF THE POISONED CHALICE

Want someone else to experience the thrill of playing detective as they make a creative concoction? Then give the gift of an immersive cocktail experience to die for.
Get them a digital gift voucher for this 5-star experience and let them step into the shoes of the great detective. Over 18s only.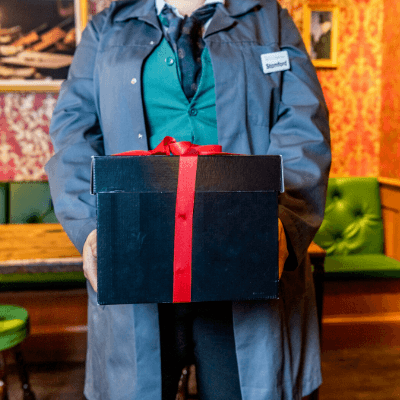 AFTERNOON TEA AND MYSTERY
Give the gift of Mrs Hudson's Afternoon Tea where they can solve their own mini-mystery as they enjoy sandwiches, scones and sweet treats in our Sherlock inspired hideaway in West London.
They can enjoy a selection of freshly made savoury delights alongside delicious scones served with cream and jam and our sweet treats of a 221B Brownie, Lemon tart with meringue, Red choux with vanilla creme patisserie and raspberry coulis and more.